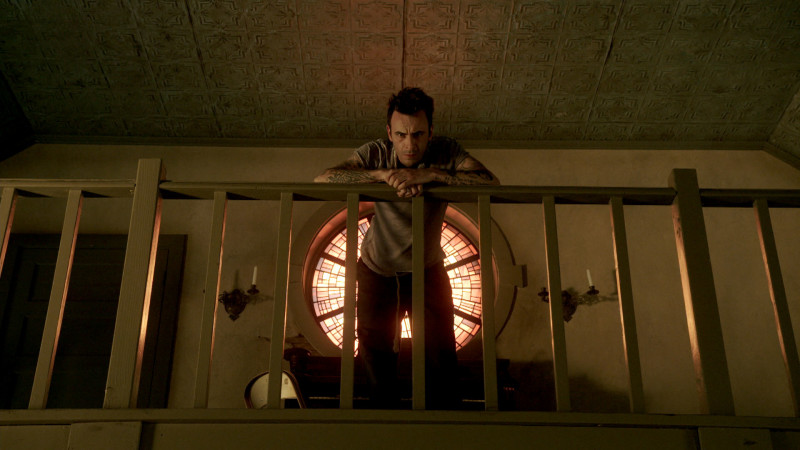 PREACHER: HE GONE
Developed by: Seth Rogan, Sam Catlin, Evan Goldberg
Directed by: Guillermo Navarro
Starring: Dominic Cooper, Ruth Negga, Joe Gilgun
Air Date: 10th July
'With God All Things Are Possible' – this is the sentiment we're greeted with in this week's episode, taken back into the moment of Eugene's disappearance. Though sudden and shocking as this is, what is more worrying is how little this seems to faze the Preacher, who begins Sunday service as normal. This introduces us to the central theme of the episode – 'He Gone' isn't just about Eugene, but about the disappearance of the Jesse we knew in favour of the Genesis-driven, Preacher we have been left with – as in a moment, his powers have gone from a gift to a curse.
Other than Eugene, there is another who is notable in his absence at the service, and that is Odin Quincannon (Jackie Earle Haley) – the born-again Christian is in his office with a Civil War model that looks eerily similar to some of the scenes that Graham McTavish's Cowboy has taken us to. This is a much needed call-back to that particular storyline, as with each week it is becoming increasingly irrelevant, to the point where many viewers aren't even interested in finding out what relevance that holds.
However, the story that truly holds interest in 'He Gone', is that of the relationship between young Jesse and Tulip, showing us just how they've changed over time, and how the people they were have informed the people they are today. Especially in the case of Tulip, as we are given a glimpse as to what her life has always been like – taking care of herself and her uncle, under the judging eye of not only neighbours, but even Jesse's own father, convinced that as she bears the 'O'Hare' name, there will always be trouble around. Similar to last week's scenes between Tulip and Emily, these give a much needed look at the softer side of Tulip, and how her upbringing has changed her into the person we first met – a fighter, with little to no regard for what people think of her. This is what makes her such an interesting character, and it was great to see her backstory explored a little more this week, even if we are operating at Preacher's 'slow and steady' approach to character development.
As expected, Cassidy's dalliance with Tulip has affected him, but perhaps not in the way expected – it seems that, in growing closer to Tulip, Cassidy has found a more compassionate side, quickly turning the vampire without morals into the most moralistic character in the show. His concern for the Preacher's actions against the 'Arsey-face kid' as he so delicately puts it, is refreshing, and a testament to the reality of their friendship. But he, like other characters, starts expressing concern about how much of Jesse's judgement is judgement from God, especially when Jesse reveals sweet Eugene's dark backstory, with more than a hint of contempt, echoed later when Tulip chastises him for judging those who don't conform to his 'uptight redneck Christian standards'.
There is mention of the Coen Brothers' movies this week, bringing to attention just how similar the styles of shooting are – in particular when comparing Preacher to their movies True Grit and No Country for Old Men, which both make use of the vast landscapes of the Southern states, playing with shadows, as mirrored in 'He Gone' with a shot of Emily and Cassidy, using the shadows cast to show the perceived light and dark of the characters.
One criticism of this week's episode is that, though Eugene's disappearance is crucial to the story at this point, there was woefully little of his father, the Sheriff (W. Earl Brown). This was a shame after having already explored the strained nature of his and Eugene's relationship, it would've been nice to see a little more of a father worrying for his missing son, as this kind of heart-breaking emotion is something we've seen Brown excel at in past episodes.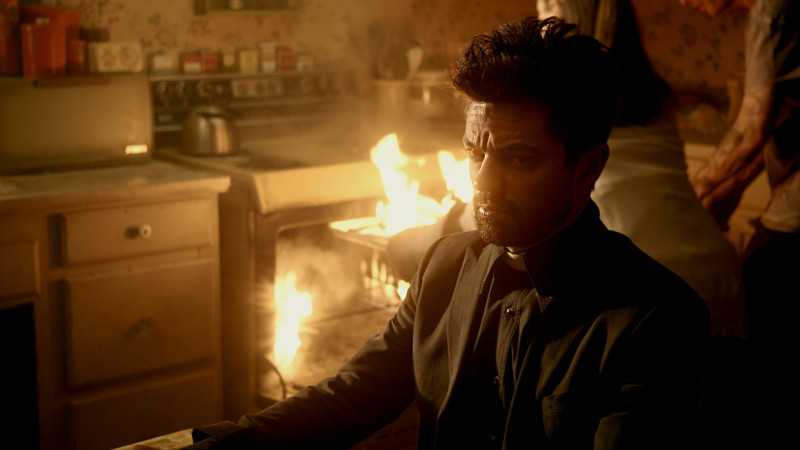 Interestingly, 'He Gone' gives us our first glimpse into Jesse's powers wearing off his unsuspecting parishioners, which leads us to wonder how long it will be before the Preacher's recklessness comes back to bite him. Young Jesse and Tulip have a pact to be together 'till the end of the world' – but with an inferno behind him and the devil at his door, that might be sooner than Jesse had imagined.
All in all, I'd give 'He Gone' 4 vanilla hash browns out of 5 – as I'm intrigued by Tulip's culinary creation.